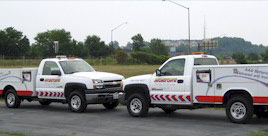 Mobile Battery Roadside Service
At Morton's Towing & Recovery, we understand that your time is important. Did your car battery die? You might think you'll be off the road for a while, but we make the solution easy. Introducing Morton's Mobile Battery Service!
We come to your home, office, or other preferred location, to test, assess, and if necessary, install a new one. Best of all, we serve our community with honest and affordable pricing.
Call 301-330-1170 to schedule an appointment.
Here Are A Few Benefits of Choosing Morton's Towing:
Emergency Battery Recharging and Replacement
Trained & Experienced Technicians Dispatched To Your Location
Battery & Charging Systems Diagnosis
On-Site Battery Installation
Right Battery To Meet Or Exceed Dealer Specifications
5 Fully Stocked Service Vans Ready To Serve You
Serving all of Montgomery County
Special Pricing For AAA Members
Read More About Roadside Battery Service Over On Our Blog: